Wye School Competes in the CBC Canadian Music Class Challenge 2018
Wye Elementary makes the shortlist for national music awardDEC 11, 2018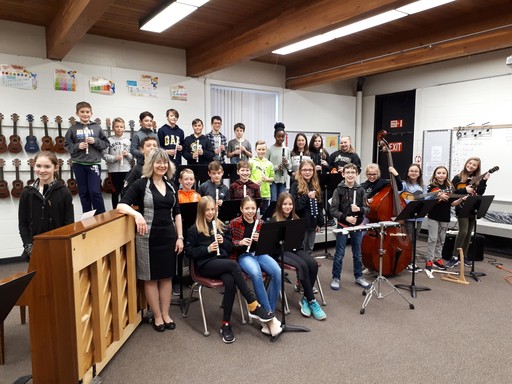 Sherwood Park, AB. — Grade 6 students from Wye Elementary are among a select few shortlisted for this year's Canadian Music Class Challenge, an annual music education award organized by CBC Music. "We're just thrilled with the news," says Monique Boyer, the music teacher at Wye Elementary who also holds a PhD in education. "They've all worked so hard, and I'm so proud of them."

One of Boyer's Grade 6 music class was selected as one of the Top 10 for the Elementary Instrumental category. An impressive feat, considering more than 15,000 students and 1,000 classes from across the country submitted a song recording for the contest.
After first hearing about the contest in October, Boyer set to writing a recorder arrangement of Raffi's Must Be Santa—one of the contest's pre-approved Canadian songs. "They only had two weeks to learn the song before we submitted the recording," says Boyer. "Some of the students even took on the challenge of learning a new instrument, since the arrangement called for alto recorders—something we don't practice in class."
This morning, two weeks after submitting the recording, the students found out the good news. "They all let out a big cheer that I think the whole school could hear," says Boyer. "They were so excited to hear the good news."
The contest wraps up on December 18. At that time, CBC Music will announce the winner for each category—seven in total. The winning classes will receive $5,000 worth of musical instruments for their classroom.
Congratulations to Monique Boyer and the entire Grade 6 Class, and good luck next week!
Blanket Exercise
On Monday, December 17th, our grade 6 students will be participating in the blanket exercise, as an extension of their knowledge and understanding of Aboriginal culture.  Our district elder, Elder Wilson Bearhead, will possibly attend the exercise and will be available afterwards to address questions that arise.  Sometimes the blanket exercise can bring up strong feelings for participants.  We hope that you will take advantage of the opportunity to extend the discussion at home, and to ask your child about what he/she felt or learned.  More information about the blanket exercise can be found at:  https://www.kairosblanketexercise.org .
We would like to welcome any parents if you wish to join us.  There will be two sessions:  12:30 - 2:00 PM, and 2:00-3:30PM.  SInce space is limited, please send an email to Ms. Checknita, at sheryle.checknita@eips.ca and indicate which session you would like to attend.
Lost and Found Clothing
Are you missing your child's jacket, hoodie, sweater, etc.....
We have quite a few lost and found items that are on display in our hall-way by the front entrance.
Please check it out before Tuesday December 19th; after that day, all of these items will be packed up and sent to County Clothesline.
When Can My Child Start Kindergarten?
To register for kindergarten in the 2019-20 school year, your child must be five years old on or before Dec. 31, 2019. 
Report Cards are now available on PowerSchool
Communicating Student Learning Reports are now available on PowerSchool for your children.
Sign into PowerSchool to access your children's Report Card.
2018 Wye Elementary Christmas Concert - Purchase Form for DVD
If you want a DVD of the fantastic concert Wye Students put on, click on the order form attached.
Christmas Concert 2018 DVD Order Form
Wye School Supports Strathcona Christmas Bureau
Dear Parents and/or Guardians, Students and Staff:
WOW!  What an awesome job done for the Strathcona Christmas Bureau!
All together, Wye School collected 16 boxes for gifts; 40 boxes of food; and over $600 worth of gift cards!  You have helped to make someone 's Christmas happen.
Thank you for all of your support.  It is such a wonderful feeling to help make everyone's holidays just a little bit brighter!
We hope you have happy holiday season filled with joy and excitement!
Your Wye School Christmas Bureau Committee
Wye School Competes in the CBC Canadian Music Class Challenge 2018
**UPDATE: As of December 11, 2018, 6Z Music is in the top 10 of the Instrumental category!  Keep those fingers crossed!**
Check out our very own 6Z Music and the Ukulele Ensemble submissions to the CBC Canadian Music Class Challenge 2018!
This year, the winner will receive $5,000 worth of instruments for the classroom, a gold record plaque plus a special "Passion Prize" of instruments from MusiCounts, the charity of the Juno Awards.   So keep your fingers crossed -- winners will be announced on December 18th.
Check out the clips below:
Ukulele Ensemble performing in the singing category https://www.youtube.com/watch?v=w3ytEcyVOVI
6Z performing in the instrumental category   https://www.youtube.com/watch?v=6TFdKWb8gnE
Thanks to our MOST AWESOME Music teacher, Dr. Boyer,  her equally awesome technical assistants, Mrs. Zunti and Mr. Samaratunga, as well as her equally awesome choreographer, Miss Gatti!
Important Changes to our Milk Program (effective November 19, 2018)
We are making changes in how we manage our milk program. These changes are being implemented in order to make our program more effective.
As of November 19th, 2018, milk will now cost $1.00. 
Milk punch cards and/or tickets are being made available for your convenience online through your PowerSchool Parent Portal. Milk can be purchased at a cost of $1.00. When purchased we will ensure the punch cards and/or tickets are properly labelled so that your student will be the only one that is able to utilize the punch card and/or tickets. The punch card and/or tickets will be kept in the front sleeve of your students' agenda.
Milk punch cards and/or tickets are still available for purchase at the office. Please have exact change.
Please contact the office if you have additional questions.
Wee Reads comes to Wye
Wee Read Volunteers Needed
EIPS is expanding the "Wee Read" program to 22 schools this year. The eight-week program was designed by Alberta Reads to help kindergarten and Grade 1 children strengthen the foundations for reading and school success, and to help children develop a love for books. 
We're looking for volunteers who can visit one of the schools for about 30 minutes—once each week—for eight consecutive weeks to read with children, talk about books and play games that support literacy skills. If you're interested or know someone who might be interested in being part of this fun and meaningful opportunity, there are five volunteer training sessions available for you to attend.  
If you have any questions, contact Heather Balog at heather.balog@eips.ca
Running Club
Running Club will continue to practice on Tuesdays  and Thursdays in the mornings from 7:45 - 8:20 a.m.
School Fees
Families are invoiced for school fees at the beginning of every school year. Fees are due within 30 days of the invoice date. The simplest, and most convenient, way to pay schools fees is by logging in to the PowerSchool Parent Portal and clicking on "Student Fees." If circumstances exist where you are unable to pay your students fees, you can apply to have fees waived by submitting an Application for a Waiver of Fees.
For more information:
EIPS fees and waivers
Wye Elementary fees
Student Transportation fees
Land and People Acknowledgement
We acknowledge with respect the history and culture of the peoples with whom Treaty 6 was signed and the land upon which Elk Island Public Schools reside. We also acknowledge the traditional homeland of the Métis Nation.
We recognize our responsibility as Treaty members and honor the heritage and gifts of the First Peoples.
We commit to moving forward in partnership with Indigenous communities in a spirit of collaboration and reconciliation. Click here to learn more.
Division News